Tyler and I were running around the base with our flak vests on talking about various leadership topics and out of the blue after one of my comments...we ended up talking about deep topics of leadership and spiritual philosophical principles that guided my life as a man and leader. Tyler also spoke to me about the budding CrossFit culture in which members of small gyms across the United States weren't just fitness fanatics but also became much like family who lived life together...
Hi, for those that don't know me, I'm Chris Reardon, an active-duty Marine Officer who entered service with the Marines back in 2007. I have served as an Intelligence Officer inside of aviation and infantry units along with service inside of various headquarters positions. Based on my observations of the need for an innovative way to approach the human development of military professionals when it comes to training to be successful downrange or in life, I worked both on and off duty to pioneer new ways of integrating physical and tactical training with relevant professional education and life coaching to train military professionals to be fit for the fight and life; namely to be physically, mentally, and spiritually prepared for the violence of combat and tackling the obstacles of everyday life.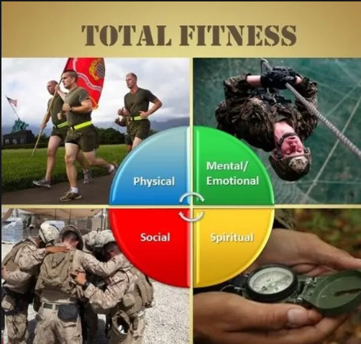 After some time of working on this problem set, I recognized that it was time to develop a third-party consulting organization that could advise military leaders and chaplains for free, but outside of the regular institutional chain of command on how to carry out in a fast-paced business start-up approach proven methods of leadership and people development in the 21st-century military environment. As such, towards the end of 2019, I founded and now direct a non-profit organization called Freedom Fitness America which provides coaching mainly through virtual means on curriculum and simple methodologies for military leaders and chaplains in active duty and reserve units to implement through mid-grade leadership into their regular unit battle rhythm on a not to interfere basis video-based discussions regarding topics of fitness and health, mental health and faith, family and unit relationships, money, leadership, and ethical topics crucial to military operations. for military individuals and assist military leaders and chaplains implement these principles in their active duty and reserve units. I think it is important though for you to understand this importance by telling my story and the story of how Freedom Fitness America came to be...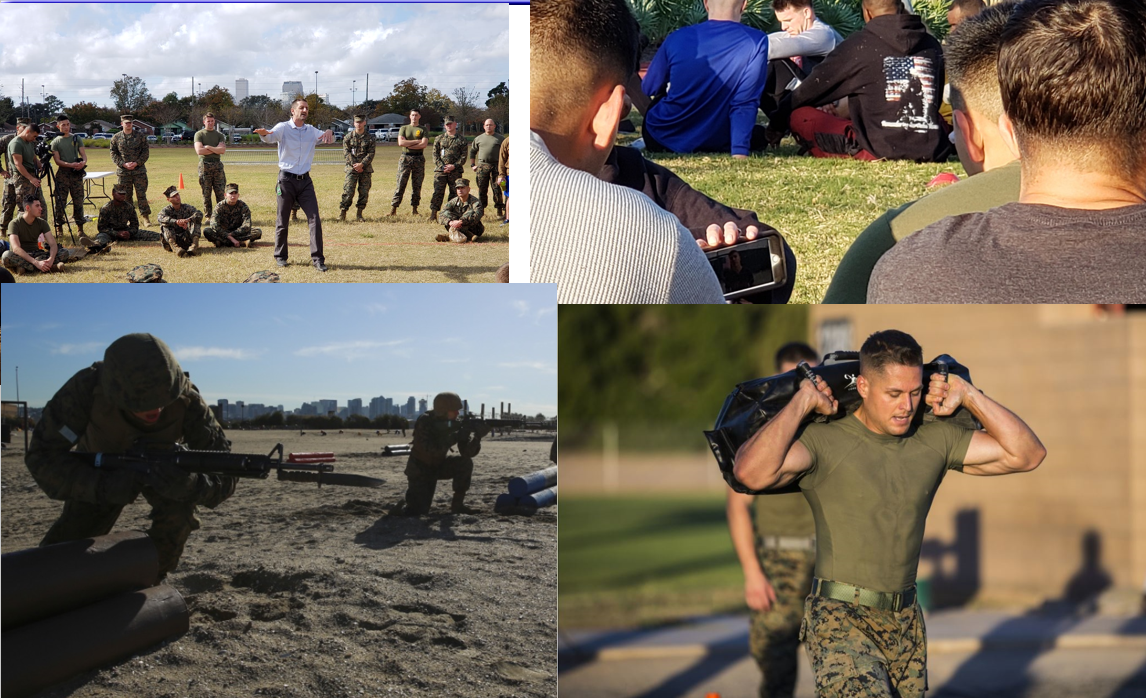 Growing up, my desire to join the military really took off sometime in middle school. I was introduced to the movie, "Top Gun" and I had dreams of being like Tom Cruise and being a Navy fighter pilot. When I got to high school, I joined Marine Corps JROTC and soon fell in love with the Marine Corps based on the example I saw of Marines I met. The retired 1stSgts, both combat veterans of Vietnam and one of them a combat veteran of the Gulf War, were our instructors and I developed a friendship with other high school cadets who later joined the Marines themselves. Some made significant sacrifices to include one of my friends who would later die from shrapnel wounds in his brain. There was something that really drew me to military service. That being said, it wasn't always something that was supported by my family. Before 9/11 happened (which occurred while I was a sophomore in high school), my dad was not keen on any of his kids joining the military because he had seen many of his friends who were drafted into the Vietnam War never come back home after seeing combat. He didn't want to have to bury his children. Other family members figured I was smart and should look at other lines of work. However, at the same time, I was exposed to veterans like Hugo DeFederico, a World War II Navy veteran who was my Boy Scout Troop Leader Chaplain and my Boy Scout Troop Leader, Joe Gannon, a 20-year retired Army veteran, and CAPT Stauff, USN (Ret), who was one of the dads of some of the scouts that participated in my troop. These men's stories of adventure, danger, respect for competent comrades, and leadership demeanor made me desire to be part of that as well. Growing up, I also watched movies like "Saving Private Ryan, We Were Soldiers, Band of Brothers, and U-571. Watching these movies drew me into the storyline making me desire to be a bold and competent leader who knew just what to say to inspire others in the midst of difficulty and danger. I dreamed of what it would look like to be the leader of action that were depicted in these movies based on the accounts of true-to-life historical people.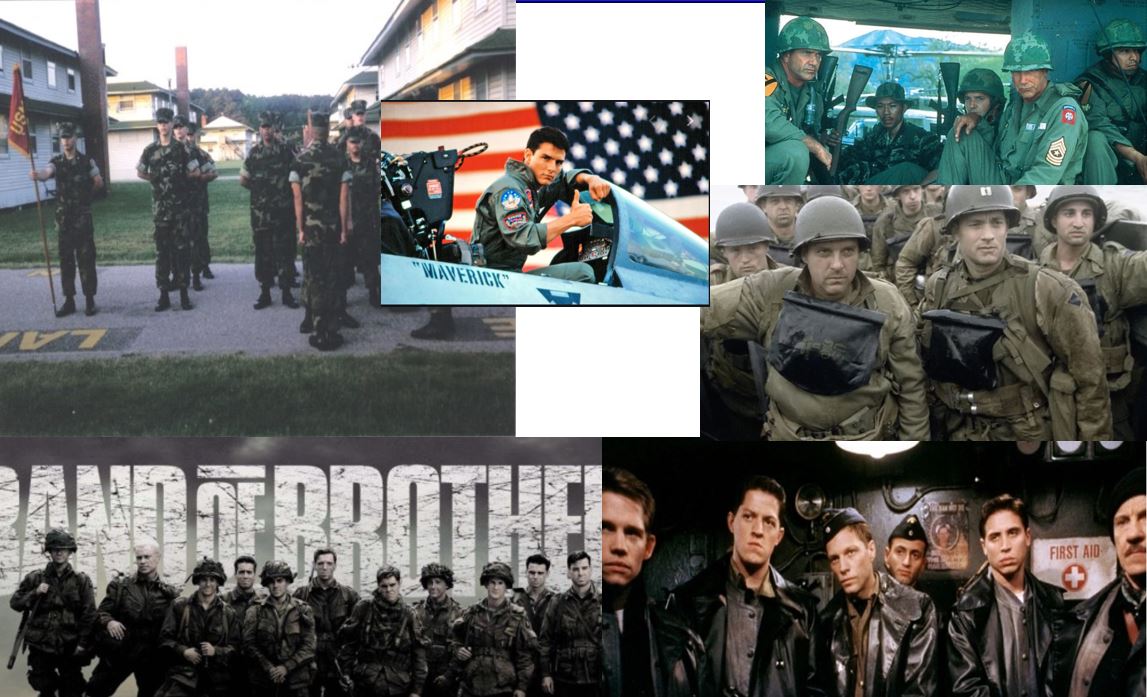 Watching these movies though in particular made me realize that there was a much more human side to military service and war that is not always depicted in recruiting posters, commercials, from recruiters themselves, or many Hollywood action movies. The truth is, military professionals are people just like anybody else who have emotions, dreams, and fears just like anybody else. The Marine Corps Infantry Officer's Course even has an evolution they call the "Human Factors" Field Exercise because of the real human factors in an operational setting that have tactical and strategic effects on the battlefield. This is not news in military history, and it will be the same thing going forth into the future because wars at the end of the day are fought amongst people, not machines.
Military professionals have to make difficult real-life decisions on the battlefield and in garrison that have huge impacts on others. From a life standpoint, these individuals also have loved ones and outside interests that make them who they are although they find it tough to balance their duties with their personal lives. While in principle this is espoused, in practice, it is not often the case. However, I believe that this can be attained. In the movie, "We Were Soldiers", the character played by Mel Gibson, LtCol Hal Moore, is asked by one of his platoon commanders, "sir, what do you think about being a soldier and a father?" Hal replies, "I think one makes me better at the other." I remember listening to that as a kid and thought, I want to embody that truth one day myself. Little did I realize it would be much easier said than done.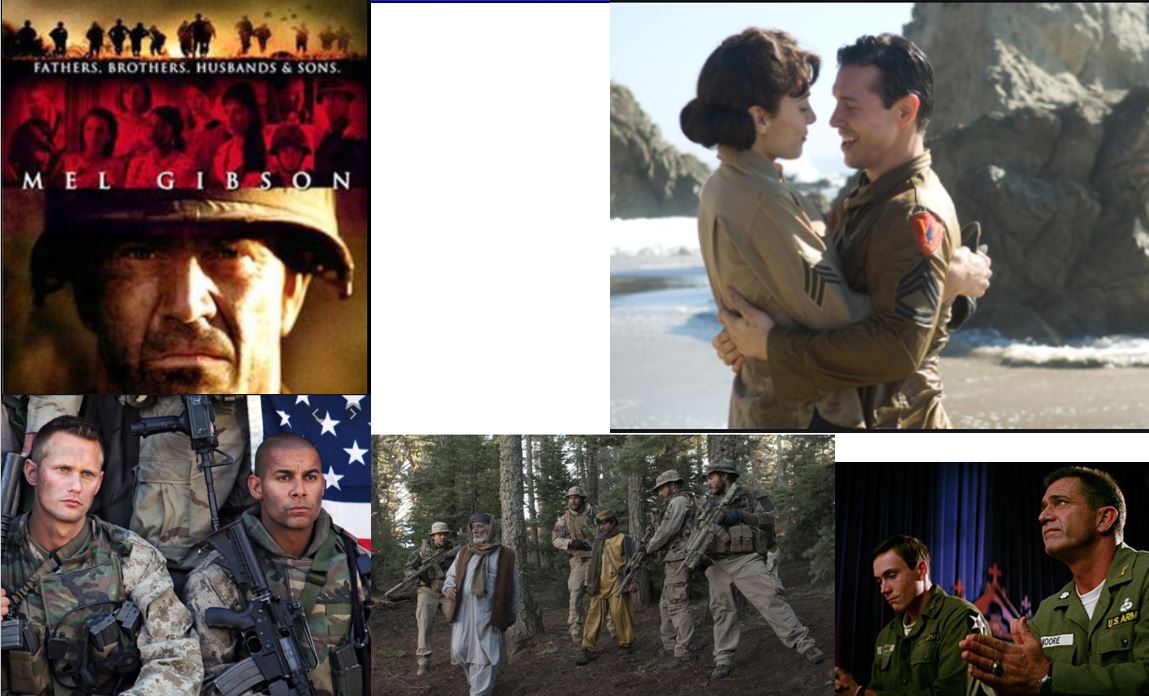 Because the truth is, I'm a husband, father, son, friend, brother, cousin, grandson, you name it. I have family members whom I love and that love me. I enjoy my military service very much, but I also desire to be my best in my relationships although the separations of deployments and living life typically very far physically from those I love is certainly challenging.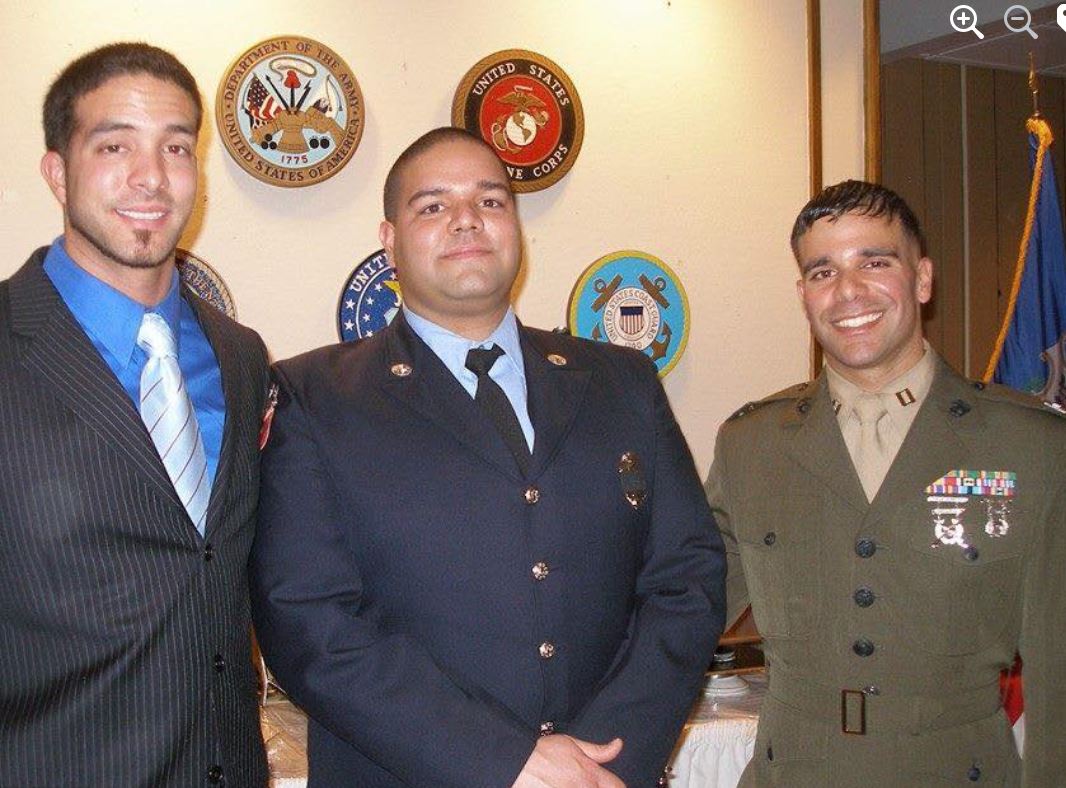 Every year, one of my favorite events that I look forward to is the Marine Corps Birthday Ball. While other services have their ceremonies, it is probably an undisputed fact that the Marine Corps Ball is the most famous of these formal/informal ceremonies celebrating our service. It is always great to see my fellow warriors looking sharp in their dress blues, dates and spouses in their best evening wear, watch video clips of Marines who do things downrange that make you proud of the uniform you wear, and stories are told that makes you remember why you do what you do. The thing though is while these events celebrate the high points, the personal lives of service members can be rough.
It is easy to pledge loyalty "for better or worse, in sickness or health" on a wedding day, much harder to follow through in life. It is much the same as it is easy to "support and defend the Constitution against all enemies foreign and domestic without mental reservation or purpose of evasion" in a moving ceremony but much more difficult in a situation that will cost you dearly. On top of that, many service members and their families are young with varying degrees of family life modeling growing up, some good, some bad, but most have not had really good mentors and models of how to live life let alone understand how to balance the lifestyle of military service with their personal lives. This leads to all sorts of issues that continue to plague the military services to this day.
I for one was very fortunate at the age of 20 that I ran into the guy in the blue shirt in the photo below, Kurt Parsons. He and his wife, Sandy, were very instrumental in my life as a young college student at the Naval Academy preparing for military service and looking to lead and influence with excellence. At the time I met Kurt, he was a prior-enlisted Navy diver turned officer who had been to Navy SEAL training and eventually became a P-3 pilot. To me, he was a man's man and one of the leaders I desperately needed in my life at that time to show me what it looked like to balance my professional demands with that of what it took to be a husband and father.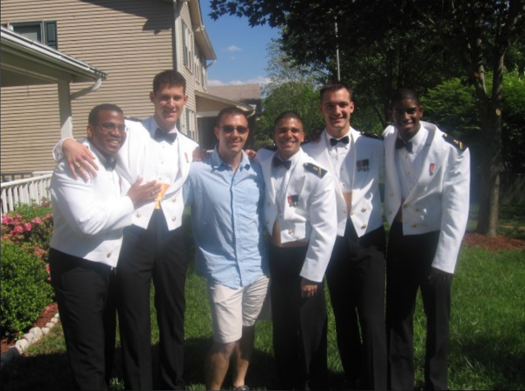 While I can recall some of the things Kurt and Sandy taught me in words, I remember more what they taught me by their actions. I remember one day after Kurt came home tired after running operations at Plebe Summer at the academy how he got in a fight with his wife. He later told me how he realized it didn't matter how tired he was, he needed to be on his A-game at home as well or something like that. I always had respect for how he prioritized his family even though he was one of the most respected officers that were looked up to by many midshipmen that I went to school with, some of whom became Navy SEALS, Top Gun instructors, Navy/Marine Pilots, Navy ship drivers, and submarine pilots. Besides Kurt and Sandy, I was also fortunate in my early 20s to have leaders like Capt Shane Groah, a prior-enlisted Drill Instructor turned Marine Officer teach me things like, "officers never fall out of hikes" and "officers always eat last" which was also modeled by then Col turned General Allen, the Commandant of Midshipman when I was a freshman.
In my initial time at TBS, my Staff Platoon Commander, Captain "JP" Steinfels, pushed me to put myself out there in terms of courage to overcome my fears of failure and criticism of others. Later on in Intelligence School, one of my instructors, one of the godfathers of Marine Air Intelligence, Capt Al Salerno, was instrumental in teaching me leadership principles that I still apply today like, "Reardon, you got to know that in any organization there are those who get stuff done and those who just have rank on their collars. Build a network of people who can get stuff done for you and if somebody gives you the run-around, don't get mad, just say thank you, and move on to somebody who can help you." Capt Kim Rossiter, the other godfather of Air Intelligence in the Marine Corps at that time, taught me the importance of relationship-building to get things done. The truth is, without these leaders helping to mold me, I would not be who I am today.
Because of what was instilled in me at a young age, I was inspired to give back and make a difference in the lives of the fellow service members I worked with, especially Marines whom I generally worked with on a day-to-day basis. As a high school student, I remember when 1stSgt Wayne Violette, a retired infantry 1stSgt, wrote a letter of recommendation for me stating that he felt I would be a leader he would follow one day. I remember many stories of 1Sgt Violette as well as 1stSgt Weber, a former Recon Marine, tell of both good officers they had and bad officers. I was determined that I would become a Marine Officer that they could be proud of and who would serve my enlisted team members and fellow officers well.
Part of that service included a passion for helping coach my fellow Marines in life because many of them were not as fortunate as me to have such incredible life coaches along the way which caused them to struggle with their personal lives even if they were incredible at work. I am taken back in time to when I was a 2ndLt with my 3 key "Sergeants", Justin Keeling, Angel Ocasio, and Matt Woody whom I served with literally at times within arms reach on a night watch floor in Iraq in 2008. Justin is still in the Marine Corps now as a senior staff non-commissioned officer while Angel went on to serve as a civilian intelligence professional within the US intelligence community and Matt went on to become an Army Warrant Officer. Matt and Angel in particular for 6 months used to grill me every night on my personal views particularly on religion, politics, women, ethics, you name it. At the end of our time together on the deployment, I was thanked by them for me teaching by example and instruction on various life lessons even though I was a single guy just 23 years old about deeply personal topics related to faith, family, ethics, leadership, etc.
Later on, I received one of my most treasured possessions. It is a plaque from my time when I was the Intelligence Officer of 1st Battalion, 4th Marines, an infantry battalion out of Camp Pendleton, CA. This plaque was given by the Marines of my intelligence section out of their own initiative how important I was in their life not just as their Officer in Charge, but also as a mentor and life coach in and out of the office. One of the Marines in that section almost 9 years later thanked me for helping give life advice that planted good seeds eventually enabling him to exit the Marine Corps, graduate college, get married, have kids, and land a successful engineering job. Others have similarly gone on to bigger and better things. I was also in the recent past reminded that tomorrow is not guaranteed and I have a short time to impact the people around me because one of those junior Marines, then LCpl Joshua Braicha, became Staff Sergeant Joshua Braicha who went on to serve in the Marine Raiders. He was killed in a tragic accident aboard Camp Pendleton. I hadn't spoken to him since our time at 1/4, but I would like to think that I had some type of impact on him that made a difference in the short time he had on this earth. From what I'm told, he became a well-respected Marine in his own right. That plaque reminds me that no matter what achievements I may desire to accomplish professionally, the most important thing in life is to leave a legacy of impacting others positively along the way.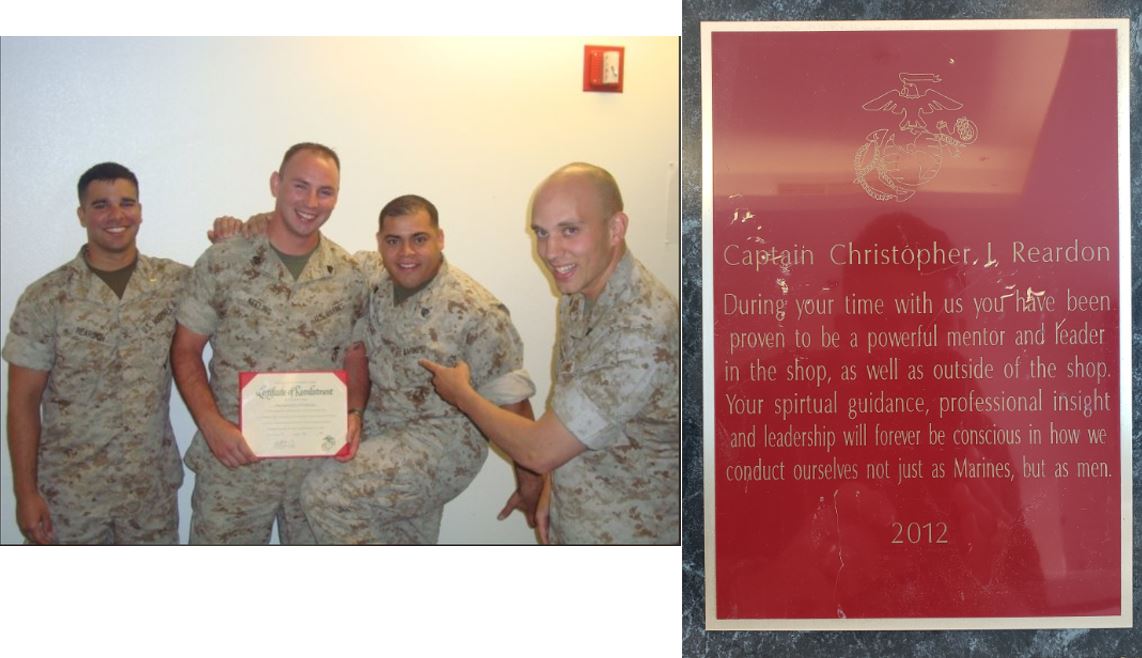 Something I came to appreciate particularly while serving with 1st Bn, 4th Mar was how valuable group workouts could be to allowing the opportunity to build strong friendships and mentoring opportunities. In fact, it happened all the time during and after hikes in the mountains of Camp Pendleton, during physically demanding workouts, or overseas in Okinawa. One thing I loved about being part of the ground forces is that you really feel immersed in the warrior culture holistically even as you wait in traffic waiting for a battalion of grunts to cross the street on a ruck march with all their weapons decked out. In the picture below, you will see my friend Tyler Chittick, sitting on the far right and I resting after doing two back-to-back CrossFit Hero Workouts together in honor of Memorial Day in Okinawa, Japan while we served together with 1st Battalion, 4th Marines while deployed with the 31st Marine Expeditionary Unit.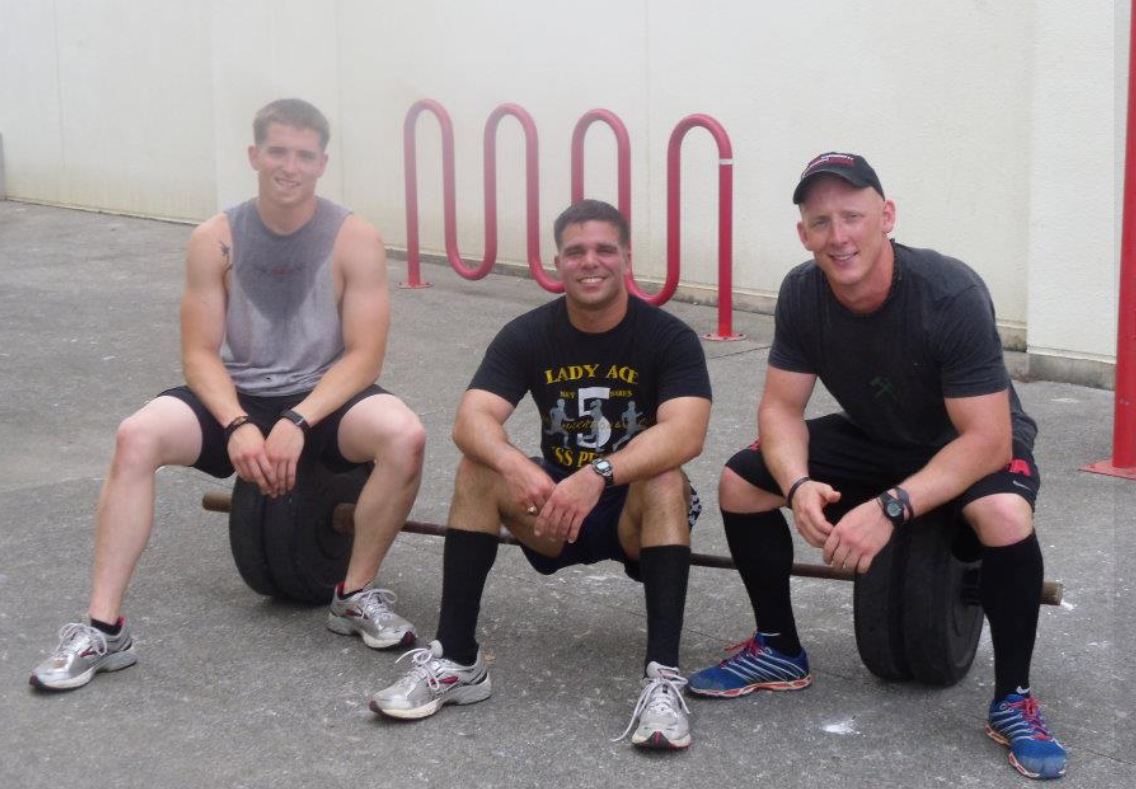 Tyler was a Sgt at the time who was a machine gunner who flew through the enlisted ranks because he was so sharp. At that time in my life, I was plateauing in my workouts and I knew that Tyler was an avid CrossFitter who was well known as a "beast" in the battalion for his physical prowess let alone his intelligence in helping others achieve their fitness goals through his mentoring. I asked him if I could join him and his boys for workouts so that I could get stronger which I did. I am grateful for the lessons I learned with various exercises and pushing myself to be "comfortable with being uncomfortable" physically. Being in an infantry battalion meant we needed to stay in top-notch shape to handle ourselves should the call come to combat. Putting myself out there physically and holding my own also gave me the credibility to speak into the lives of Marines like Tyler as well. One day Tyler and I were running around the base with our flak vests on talking about various leadership topics and out of the blue after one of my comments, I remember him asking me something about how he knew that my faith was important to me. We ended up talking about deep topics of leadership and spiritual philosophical principles that guided my life as a man and leader. Tyler also spoke to me about the budding CrossFit culture in which members of small gyms across the United States weren't just fitness fanatics but also became much like family who lived life together outside of the gym whether it be attending weddings together, getting children to play together, hanging out for beers, etc.
Following that deployment, I went to graduate school in Ohio and ended up getting more into the CrossFit community to include participating in various competitions. In 2015 I became a CrossFit Level I coach serving at CrossFit Diadem in Escondido, CA. CrossFit Diadem was an interesting gym because besides fitness, they also were pioneers in tying in faith with workouts and I would help them become part of establishing a Faith Rx'd Chapter in San Diego. Around that same time I was invited to attend a GoRuck event by my boss at the time, Erin "Gypsy" Benjamin (LtCol, USMC (Ret)), and appreciated the idea of tying in difficult fitness events with motivational messages. I started working on similar events that I called the SoCal Military Crucible which were held at Camp Pendleton, CA from 2015-2016. Towards the end of 2015 into 2016, I shifted gears from being a CrossFit Coach and Faith Rx'd volunteer to own my own gym (a boot camp style functional fitness studio) that was purchased in Pacific Beach, San Diego, CA. Unfortunately due to various reasons, the business failed and after only 9 months, I had to say goodbye to this dream after losing tens of thousands in the process and eventually filing Chapter 7 bankruptcy. While the outcome was terrible to me at the time to include having to let go of dear coaches, find a new home for clients, and deal with the financial aftermath, I now look back on this time as my "MBA" in business and determined that I would set a new path forward. That path became launching my own non-profit organization to serve the military community primarily with the hopes of one day taking the lessons learned back to the fitness and veteran community.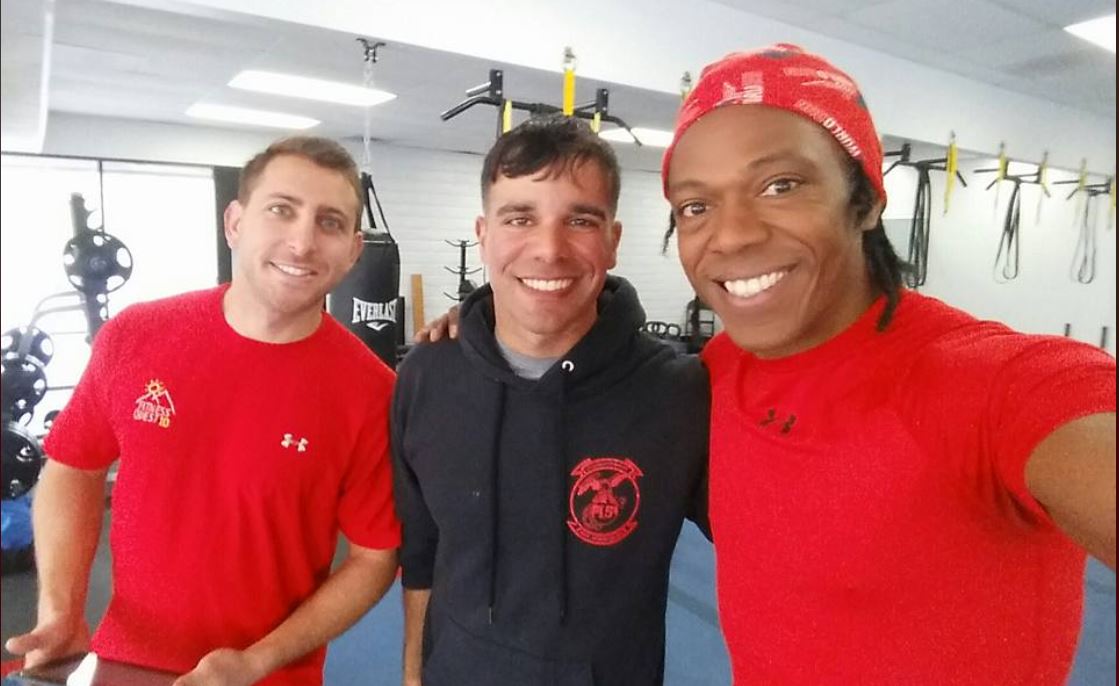 As I continued to understand and experiment with the concept of tying physical fitness and outdoor adventure together in 2017 I spearheaded a physical and tactical field event (click the previous link to see a short video) for the Headquarters and Headquarters Squadron of Marine Corps Air Station Miramar that incorporated a stress shoot combined with high-intensity physical stations that were run in a competitive race. This was tied into a message presented by a highly sought-after and well-known motivational speaker especially in the Marine Corps by the name of Phil Downer who I consider like a dad. Phil is a former Marine who served as a machine gunner in Vietnam and came home with PTSD almost destroying his family before it even started by cheating on his wife and being verbally abusive as he struggled with emotional pain residing from his experience of loss and pain in war.
Phil recalled for the Marines at this particular event that he faced the real possibility of a divorce with his wife who he said he knew without change in his life would have pressed a case against him. His wife was a fellow lawyer at that time, and he feared a "Downer vs. Downer" legal case that would not have gone well. Phil was able to make a change and get on the right path in life now being married for over 40 years and having 5 kids who are making a huge difference in the world. Phil has spoken to well over 200,000 US military service members worldwide and sometimes has his wife Susy accompany him to tell their story of being victorious in life in spite of the scars of war. To support the commander's Command Religious Program championed by the unit chaplain in an optional supplemental speaking engagement, he also provided a relevant story about how his faith helped him overcome the personal challenges he had with about 90% of their own personal choice staying and listen in order to draw spiritual inspiration for the future fight and for their personal lives.
Following this event, I received orders to New Orleans where I worked to continue building out this concept of combining life coaching with fitness. I knew that for this to be successful, I had to figure out a standardized way that young leaders, particularly non-commissioned officers, staff non-commissioned officers, and junior officers could implement on a regular basis during a busy battle rhythm. In fact, these guys/gals became my greatest customer because many of them were on the front lines of watching real-life issues of having Marines and Sailors who struggled with figuring out how to be successful both at work and at home.
Two Sergeants told me how they saw some of the young married Marines with little kids at home struggling with figuring out how to get in physical training time, higher education/PME with their day jobs, and taking care of a spouse with real needs at home usually with little kids who demanded tons of attention. Other issues of the day came to the forefront when we had 2 Marines back-to-back, one CWO and one Cpl in the same section, the Installation Personnel Administrative Center (IPAC) within 45 days commit suicide. This really rocked that section. My Operations Chief at the time lived just next door to the CWO and came to me pretty shaken up about the incident. Not wanting to just sit on the sidelines, I worked with our unit chaplain and the Marine leadership of that section to do a special event where they were able to tie in a CrossFit Hero WOD with mobile video-based discussions relevant to the situations Marines either have faced or would face in the future in life or in combat.
The initial session after the workout was only designed to last 60 minutes although they ended up going 80 minutes because the discussion got so intense and valuable to all. Over the course of the next year after working on varying techniques of combining group fitness with life coaching discussions, we saw an almost 80% drop in suicide ideations and sexual assaults not to mention substance abuse. Other units that practiced similar methods saw similar results. The idea of bringing people together to work out, form bonds with fellow service members, and then talk about real issues in the open based on relevant speakers brought about real change.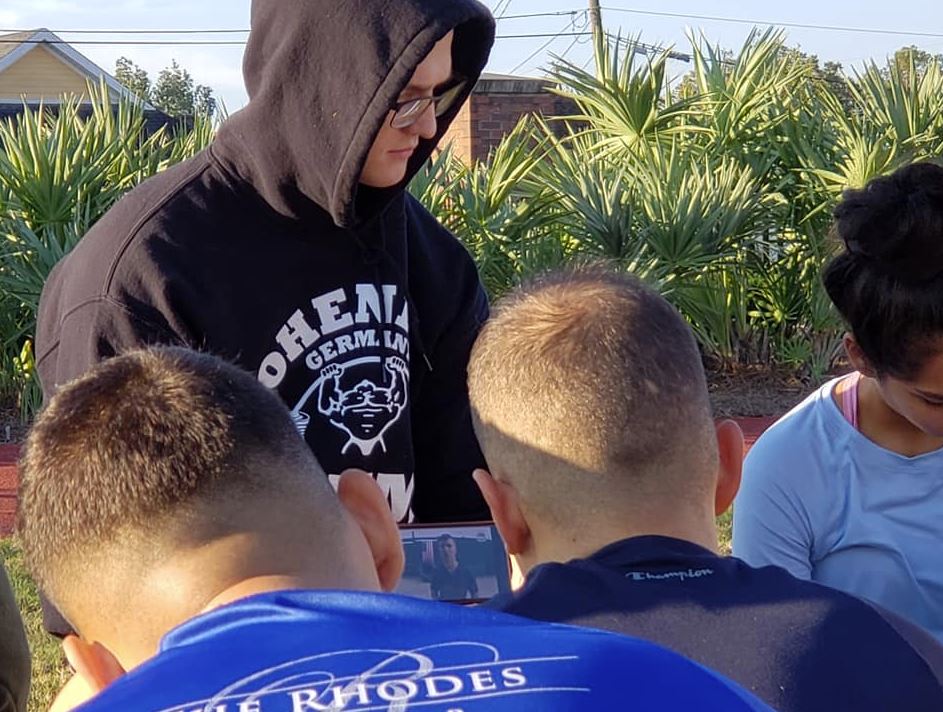 The culminating event of my time in New Orleans would take place with another outdoor adventure race like the one at Miramar that tied in the new Marine Battle Skills during a unit Field Exercise in March of 2020. I helped the Cpl's Course, unit chaplain, and psychologist put together a resiliency aspect to our field exercise that had Cpl's from the Cpl's course leading video-based guided discussions from iPADS before each major tactical evolution. Over 180 Marines participated with another 60 acting as the staff. The event was a blast for all which included a stress shoot, confidence course, calling in a live helicopter 9 line, and conducting confined blackout training that firefighters typically do with the assistance of local firefighters out of Slidell, LA. In the picture below, you will notice one of the motivating Cpls talking to his fellow Marines about the importance of how to find hope amid life's challenges during one phase of the event. At this point, I think you are now grasping the idea of what it means to develop what is called "Total Fitness" which you can learn more about here.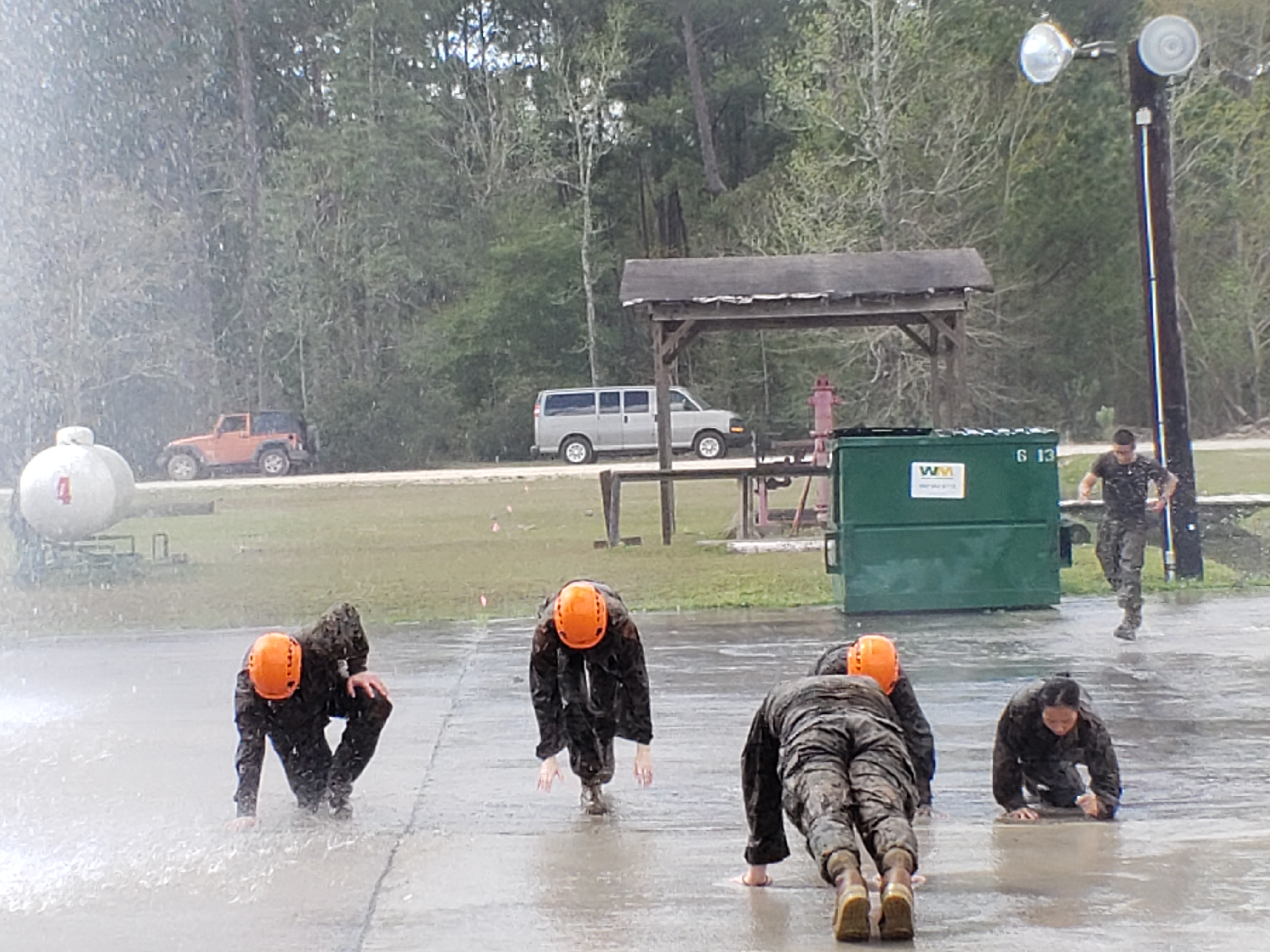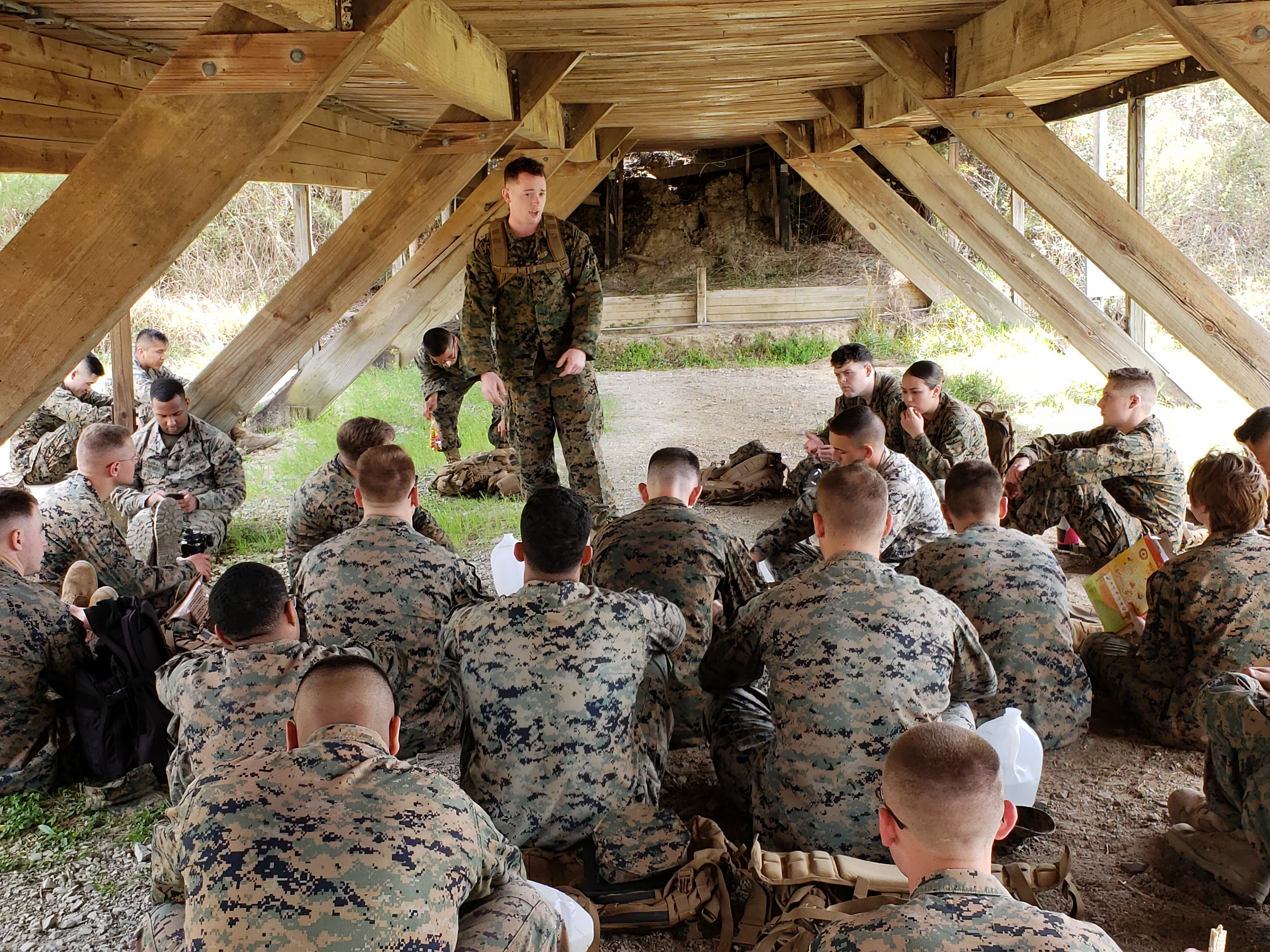 The idea of total fitness is where military members are charged with not just staying in top-notch physical health, but also in all areas of their life and career. This has been espoused for some time now especially considering high divorce rates, substance abuse, sexual assaults, suffering from post-traumatic stress, suicide, financial struggles, and other negative behaviors.
Alright, so to bring this story back around, I want you to understand why it would be extremely important to partner with us. In order for Freedom Fitness America to continue to expand our services across the active-duty military community in the US (1.5 million people approximately) and the reserve military community (almost another 1 million people), we need to raise funds to hire part-time coaches/staff to manage our programs to include outreach to chaplains, senior enlisted leaders, and other leaders so that they can implement our methods into their physical and tactical training.
As I mentioned above, the impact has been significant and can only become that much better from a preventative approach in solving some of the most challenging cultural issues facing the military and veteran community today such as suicide, sexual assaults, substance abuse, domestic violence, PTSD, etc. I also believe that by empowering leaders and warriors inside the functional fitness, veteran, and potentially first responder community with similar training that Freedom Fitness America is conducting inside of the military community that this can have a ripple effect in making a positive change in the Land of the Free.
That being said, I want to give you an opportunity to become part of the cause to train military professionals to be "fit for the fight and life". You can do this by participating in a virtual or peer-run fitness event that also is designed to raise funds for our organization. We are calling this the 2021 Freedom Nation Campaign. Freedom Fitness America will offer this training free to you with various events tied to Memorial Day, 4th of July, Patriot's Day (9/11), and Veteran's Day utilizing military-style workouts like the Hero WOD "Murph" now famous for being conducted in CrossFit gyms nationwide. If you would like to participate in this campaign, go ahead and click here:
Join the 2021 Freedom Nation Campaign!
I look forward to serving together in this noble cause!
Find Your Freedom,
Chris Reardon
Major, US Marine Corps
Freedom Fitness America