When I returned home from Afghanistan, I anticipated having the best year of my life with my recent promotion to Lieutenant Colonel, getting married, and surviving a combat deployment. I thought my exposure to a war-torn and under-developed country and the conditions of how the Afghan people lived would remind me of how good I have it as an American...On the contrary, I had one of the worst years of my life, as my emotions, especially anger, were out of control...
The appearance of U.S. Department of Defense (DoD) visual information does not imply or constitute DoD endorsement. The views presented are strictly of the author and do not represent official policy positions nor imply endorsements by the U.S. Department of Defense (DOD) or any of its military services.
My name is Patty Klop. I have post-traumatic stress disorder (PTSD) and I am not ashamed. I am a wife, mother, sister, and a colonel in the U.S. Marine Corps Reserves. Following seven weeks of PTSD treatment in mid-March 2022, I received the most precious gift that I ever received in my life, which was the empowerment to live life with joy and contentment. As much as I prefer the privacy of my personal and professional life, and especially since I am still serving in the U.S. Marine Corps Reserves, I am taking a tremendous risk to share my PTSD story. However, the worst thing I can do is to keep this gift to myself. Assuming the risk of being transparent and vulnerable as a senior Marine Corps officer, I feel it is my obligation to my sisters and brothers in arms to share this incredible gift as encouragement and possible inspiration.
In April 2006, I returned from a seven month deployment to Iraq (Ramadi and Fallujah) in support of OPERATION IRAQI FREEDOM. I had a hard time adjusting to post- deployment life. Reflecting back during this difficult time, I now realize I was experiencing PTSD symptoms. The uncontrollable rage and angry outbursts were shocking and damaging to my family, especially to my father with whom I was very close. I had never acted like that before. Through Military One Source, I was referred to a counselor who assessed my symptoms of agitation, sleep disturbance, low energy, depressed mood and irritability. After journaling, talking to supportive family members, and prayer, I was able to reconcile with my dad within a couple of months. At this point in my life, I was unmarried and had no children.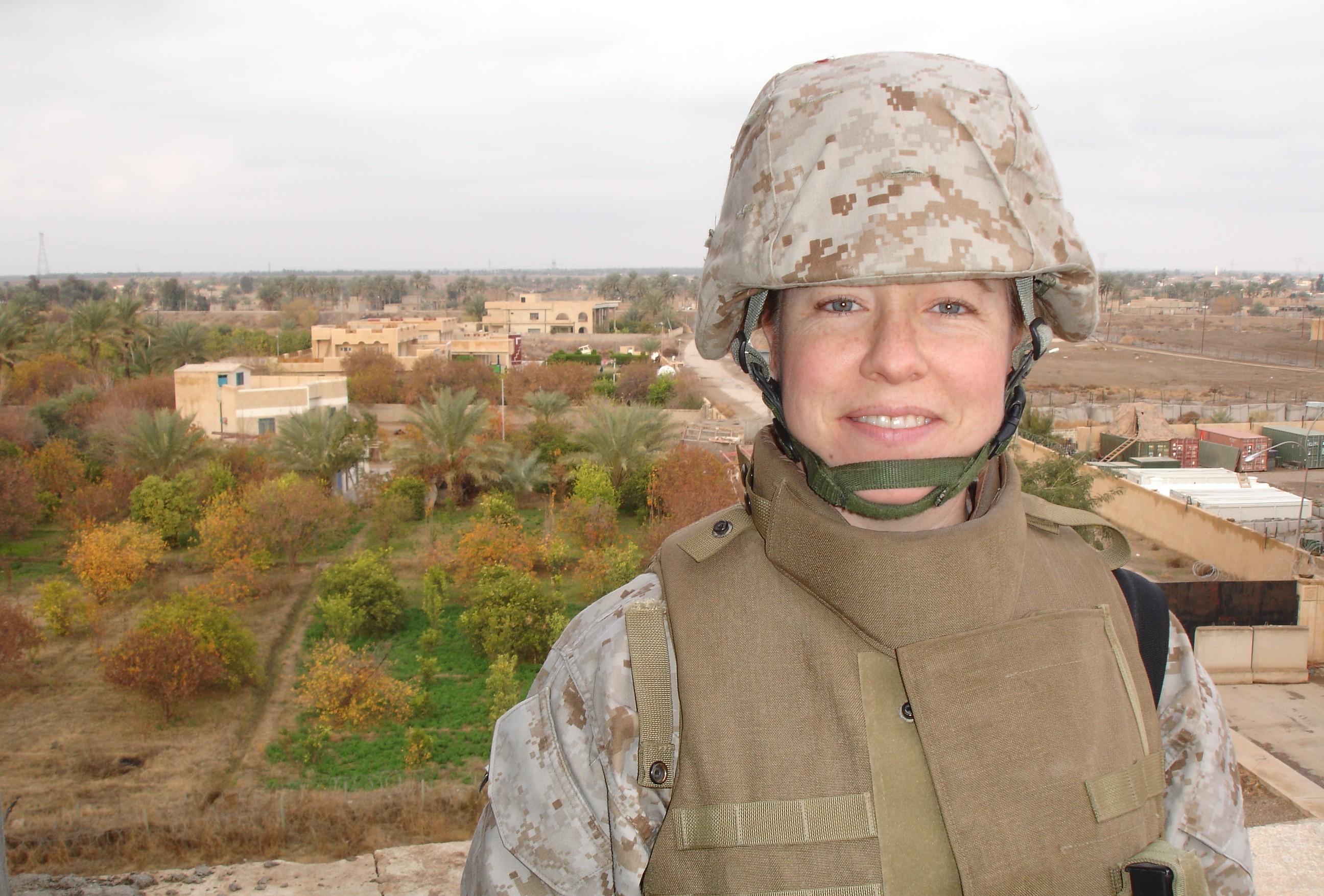 Ramadi, Iraq: January 12, 2006
With two raging and concurrent conflicts in full throttle, there was a lot of work to be done and plenty of opportunities to serve on active duty in another Reserve assignment. In August 2006, I was assigned as the hospital liaison officer-in-charge at Landstuhl Regional Medical Center in Germany for a year. From May to October 2009, I deployed as the Officer-in-Charge of Personnel Retrieval and Processing (PRP) Detachment, also known as mortuary affairs, to Camp Bastion, Helmand Province, Afghanistan, in support of OPERATION ENDURING FREEDOM. As the first Marine Corps mortuary affairs unit to deploy to Afghanistan, we were assigned the daunting task to establish the first Marine Corps Unit Collection Point. As a PRP team, we provided care in handling and preparing human remains for evacuation and subsequent repatriation to next of kin. This was an emotionally fatiguing job with repeated traumatizing experiences.
When I returned home from Afghanistan, I anticipated having the best year of my life with my recent promotion to Lieutenant Colonel, getting married, and surviving a combat deployment. I thought my exposure to a war-torn and under-developed country and the conditions of how the Afghan people lived would remind me of how good I have it as an American and to live life to the fullest. I thought I would see life through perpetual optimistic lens, enjoying life for all its worth; and embracing each precious moment. On the contrary, I had one of the worst years of my life, as my emotions, especially anger, were out of control in even for the smallest annoyances.
The first six months of marriage was turbulent. I was irritable, easily agitated at the slightest annoyance, and extremely jumpy. I did not think my marriage was going to make it. My marriage was in constant conflict, almost daily, not realizing the manifested PTSD triggers led to this conflict. I knew I had a tendency to over-react and I struggled to control my anger. After my husband and I went to marital counseling for several sessions, the counselor revealed I had symptoms of PTSD. At this time, my PTSD symptoms were extremely severe with anxiety, agitation, anger, depressed mood, low energy/chronic fatigue, irritability, impatience, hypervigilance (extreme sensitivity to my environment's noises, temperature, and activities), trouble sleeping with haunting nightmares, loss of interest in activities that I used to enjoy, and feeling like my skin was crawling. I was not aware I had PTSD, but after the counselor shared her insight about my symptoms, it made sense.
Our counselor referred me to a psychiatrist who prescribed me anti-anxiety medication. I was reluctant to take prescriptions as I felt I reached an all-time low by taking medication for my mental health. I was a senior Marine Corps Officer. I should have self-control over my emotions and behaviors. I felt like a total mental case! During the summer of 2010, I remembered vividly the experience I felt when I knew my prescription medication had taken effect. I was painting the spare bedroom and I honestly felt my irritability and tension lifted and departed from my body. I finally felt relief and a calmness I had not experienced since I returned from Afghanistan. I instantly knew my experience of relief and calmness was the therapeutic effects of my prescription medication. I had a change of mind and awareness that prescription medication was appropriate in my time of need.
In the military, and especially in the Marine Corps, I believe there is a stigma in admitting mental health problems and pursuing treatment may be perceived as being weak. There is an expectation in the military to handle problems on one's own. I was fully aware of this stigma and pursuing mental health treatment was counter-culture to the Marine Corps, especially as a senior officer. I was willing to take this risk because I needed help. I was not the same person when I returned from Afghanistan. My PTSD symptoms were progressively spinning out of control and negatively impacting my marriage.
I pursued the local Veterans Administration (VA) and had received PTSD counseling since October 2010 with countless outpatient appointments, but I never felt I gained any traction and momentum to apply my new coping skills to manage my PTSD. After arranging for childcare for my two young boys, driving thirty minutes to my appointments, redirecting my focus to the thirty minute counseling session, then driving thirty minutes back home, I was thrust back into the throes of motherhood with my adulting obligations and responsibilities. There was no quality time or space available to give my undivided attention to learning my new coping techniques, much less practice them. I also pursued several counselors outside of the VA, which were disappointing experiences as I did not feel understood as a combat veteran. I was functional but struggling. Despite my best effort to get better, I did not improve and I felt stuck in my PTSD. I wondered if this struggling life that I was experiencing was the best that life had to offer. We all have our own personal burdens to bear, and my burden in life must be stuck in my PTSD.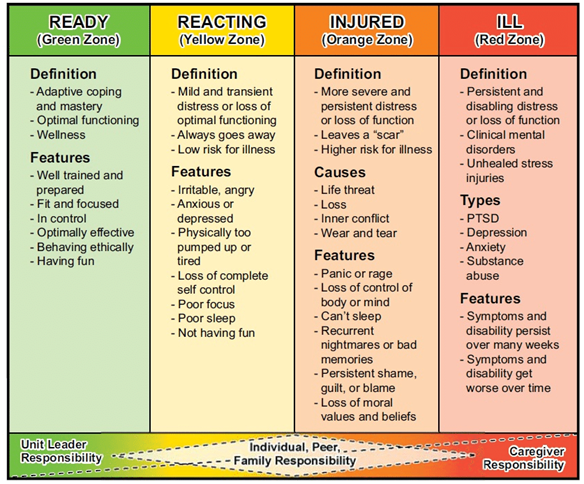 According to the Stress Continuum Model on the Marine Forces Reserve website, I felt like I was living in the "Yellow Zone" of reacting while slipping forwards and backwards between the yellow zone and the orange zone. Just give me a lame excuse to advance into the orange zone and I pounce! I like to blame my hot-tempered Irish, fighting spirit as an excuse for my behavior. To be honest, I would like nothing more than to be confrontational, close the gap between me and my offender, and give them a piece of my mind with the slightest provocation. I went from zero to sixty in no time with anger and aggression. My out of control anger felt like the personification of the 1970's TV show "The Incredible Hulk." Dr. David Bruce Banner, the human side of "The Incredible Hulk," would say "Don't make me angry, you would not like it if I was angry." Ironically, "The Incredible Hulk" was unequivocally my favorite all-time television show as a little girl. Little did I know I would actually grow up to become "The Incredible Hulk!" The Hulk's green color was fitting as it matched my Irish heritage and the "Fighting Irish" spirit.
In Fiscal Year 2010, the integrated behavioral-health training program called Operational Stress Control and Readiness (OSCAR) was implemented to all Marine Corps operational forces to assist commanders and Marines to identify, prevent and manage combat and operational stress as early as possible before it became a medical problem, such as a stress injury, PTSD, depression or anxiety. For over a year I led an OSCAR traveling team that trained units across the nation, resulting to a total of 612 trained Marines and Sailors as OSCAR mentors. On May 23, 2012, I was selected as the Marine Forces Reserve OSCAR Master Trainer of the Year at the Combat Operational Stress Control Conference in San Diego, California. I was only one out of four Marines in the United States Marine Corps (active duty and Reserves) to receive this distinguished honor, which was one of my Marine Corps career highlights. If anyone should be aware of PTSD and how to handle it, it should be me! Clearly, my struggle was not a knowledge problem, but an application problem. Despite my best efforts, I felt defeated by my PTSD, as I failed every day with my destructive behavior and avoidance of family interactions. I needed help!

On August 2, 2019, I experienced the perfect storm in my life. My dad passed away, which left a horrendous rift in an already fragmented and fragile family with lots of brokenness and bitterness among my siblings. My mom passed away in January 2012, so I had to come to terms to being an adult orphan, which was hard and painful. I was very close to my dad, who was also a Marine. As my father's daughter, we were cut from the same cloth. Later that same month, I returned to teaching elementary and junior high students in physical education and health after a two year maternity leave of absence. It was stressful to return to teaching after my two-year absence as education had changed significantly. All of the educational initiatives and changes were overwhelming because the expectations were unrealistic. I could sense my PTSD flaring up daily as I was brewing like a pressure cooker ready to explode. After an illustrious teaching career of 16 years, I unexpectedly resigned on September 11, 2019. My PTSD flare ups and lack of self-control were starting to scare me, especially with my interactions with students. I felt like a complete and utter failure, as I had intentions to retire from teaching when the time was right. All of these crises left me depleted and desperate for help.
Even after this perfect storm in my life passed, rip currents continued to beat me down. According to my dad's Last Will and Testament, I was appointed executor of the estate where I took care of all the family business. However, I took care of the family business all by myself, despite the need for help, which included selling the house and other family property, completing and managing all of the financial administration, filing estate taxes, and designated as the trustee of my brother's trust. I had the youngest children among my siblings, which strained my time and patience to accomplish all the required tasks. Furthermore, my oldest son has a birth defect that required daily therapy and regular doctor appointments. Needless to say, I could not see the forest for the trees!
My brother was active in his addiction to alcohol and drugs, which led to his arrest a couple of times. In accordance with my late dad's wishes, I assumed the role of guardian for my brother, which had been a part-time job for the past couple of years. Instead of jail time for operating a drug house, the judge required my brother to be admitted for 90 days to an inpatient drugs and alcohol private treatment, contingent upon successful completion. My brother burned through three drug treatment centers, never successfully completing the 90-day treatment program, which resulted in a return to jail a few times. As the only sibling taking care of my brother, I was fried with anxiety and learned a lot about addiction, boundaries, and tough love.
At this point in my life, I was deeply desperate for help, as my PTSD flared daily like a Roman candle. As I stated before, I did not gain any traction of improvement with my outpatient appointments and I became increasingly frustrated with my stagnated state. I was fiercely floundering to an all-time low point in my life with deep depression, anxiety and feelings of hopelessness and helplessness. I wanted to escape, just disappear from reality. I soon realized I needed the immersion of inpatient PTSD therapy, which would enable me to be fully present without distractions, as well as create uninterrupted time and space to learn and apply new coping skills that would follow me the rest of my life. My mind was ripe and the time was now to pursue inpatient PTSD therapy. I knew inpatient PTSD therapy was the critical care I needed in the midst of my life of crises.
The closest inpatient PTSD treatment center for women from my Illinois residence was at the VA Fort Thomas Division Trauma Recovery Center in Kentucky, just across the river from Cincinnati, Ohio. Much to my surprise, this PTSD treatment VA center was nationally ranked as one of the best PTSD treatment centers in the country. Furthermore, Dr. Kate Chard, who is the co-author of the Cognitive Processing Therapy (CPT) Treatment Manual, the therapy applied during PTSD treatment, was also the resident expert and director of the Trauma Recovery Center at the Cincinnati VA Medical Center. I was fortunate and blessed to receive my PTSD treatment at such a renowned facility.
By the time I submitted my PTSD inpatient treatment application to the day I finally checked-in to PTSD treatment was 16 months. I was intentional to create the best time and space to pursue PTSD treatment without anticipated disruptions and they worked with me to schedule a time that fit me best. In the interim, I received monthly follow-up phone calls from the residential intake coordinator who was checking-in on me to ensure that I was on track for PTSD treatment. After each phone call, I notoriously asked, "Are you sure I am qualified for PTSD treatment? Are you sure that I meet the criteria for PTSD treatment? Are you sure that I am not taking up a spot that should be reserved for another combat veteran?" I vehemently did not want to fill a spot that should go to another veteran in need. As Marine leaders, we have an innate quality to take care of others before ourselves. When we are in the field, the enlisted are fed before the officers. Furthermore, I felt I was unworthy to receive PTSD treatment. I had a false impression that I must be an extreme burnt-out combat veteran with severe and debilitating PTSD about to hit skid-row to be admitted to an inpatient PTSD treatment. On the contrary, in order to successfully receive the intense PTSD therapy, the veteran must be functional to a degree that enables him/her to be fully present, engaged and participate in the process of individual counseling and group sessions as well as completing writing assignments. Drugs, alcohol or other similar contraband are prohibited as they are barriers and competing distractors for patients to fully experience the healing power of PTSD treatment.
When I finally checked in to the inpatient facility, I was still shell shocked from life and eager to get the help I so desperately needed. I instantly knew I finally arrived. All of my feelings of doubts that I was not worthy of PTSD treatment, that I did not meet the criteria of PTSD treatment, and that I should not take a seat reserved for another combat veteran vanished. After a couple of days, I knew with every fiber of my being that I was in the right place receiving PTSD treatment. The PTSD treatment deeply resonated with me because it was exactly the relief that I was looking for. I was able to unpack the burdens of my PTSD, disarm them and hit the reset button of my life. It felt like God sent his best guardian angels to my flanks to pull me out of my pit of PTSD hell. My disposition slowly improved from dark ominous stormy clouds to clear blue skies.
As the Marine Forces Reserve OSCAR Master Trainer of the Year, I thought I knew a lot about PTSD. I was blown away at how little I really knew about PTSD. What an education that I received in my PTSD treatment, starting with the mind is a battlefield! We cannot expect a Marine to go to the depths of hell in combat and not expect him/her to return home with the imprints it leaves on their heart, mind, and soul. The images I saw in mortuary affairs were haunting and it made me furious to see my comrades-in-arms dead. I was so angry and my anger was out of control! PTSD hijacked my mind and I had the fight of my life to liberate my mind from its bondage. Not to say I am healed or cured by any means, but I am now equipped with effective techniques and coping skills to minimize and mange my PTSD in order that I may live life to the fullest. Doing the hard work of intense PTSD therapy was nothing less than true grit. In the process, I experienced a renewing of the mind and a healing of the soul.
Initially, I struggled with bearing my soul about my traumatic combat experiences to a civilian who never served in the military a day in her life. As combat veterans, I sense we have a common mentality that only another combat veteran will understand us, which is true to an extent. Outside of therapy and a few select close military comrades, I would certainly not ever share my combat experiences with anyone. My therapist did not serve in the military. However, my therapist was an expert in trauma and was unequivocally the best therapist I encountered after 16 years and over ten therapists. She may not have served in the military or in a combat zone; however, she certainly understood my trauma and helped me navigate the horrors of my trauma, leading me to a healthier state of mind. If I was stuck in a mentality that my therapist's credibility and qualifications were as a combat veteran rather than a specialist in trauma I would regret in missing out in her expertise. My narrow mindset would truly prevent me from fully embracing the healing power of my PTSD treatment.
What did I experience in PTSD treatment?
PTSD treatment was like a sanctuary for warriors to begin the healing process from the invisible wounds of combat trauma, which is what I desperately longed for the last 16 years of my life. The CPT is a self-discovery process of identifying thought patterns, emotions and behaviors that were weighing me down from living my best life. I was immersed in a safe and nurturing environment where I was fully accepted without condemnation or shame of myself, my PTSD diagnosis or my past.
What did I not experience in PTSD treatment?
I did not experience a lecture or an unending infomercial of how screwed up I was because I honestly felt like damaged goods. Not once did I receive unsolicited advice about how I was doing life wrong, or how bad and destructive my behavior was, or how out of control I was in being a wife and a mother. Not once did I receive condemnation, shame or disapproval for my PTSD diagnosis. Instead, I was guided in a self-discovery process of exploring my thought patterns, which were challenged and rewritten towards a healthier baseline. Thoughts lead to feelings, feelings lead to actions, and actions lead to results. Everything begins with thoughts, which are produced by the mind. Again, the mind is a battlefield!
What did I learn in PTSD treatment?
I learned several relaxation methods that may be unconventional in the eyes of the Marine Corps, but effective nonetheless. I learned about mindfulness, yoga and progressive muscle relaxation (PMR). I challenged myself to have an open mind with these relaxation methods, even though it felt awkward. I was always more of a high-intensity "boot camp" kind of gal versus yoga, but I do understand and appreciate the benefits of breathing techniques, relaxation and mindfulness. I did enjoy and intend to adopt PMR, as I find the act of tensing a group of muscles as I breathe in and relax them as I breathe out gives me something to do rather than trying to empty my wandering mind during mindfulness exercises. I was also introduced to horticulture therapy, an ancient practice that uses plants and plant-based activities for the purpose of human healing and rehabilitation. I appreciate, value and understand the therapeutic benefits of horticulture and maybe someday I will have an interest in growing a green thumb. If given a choice among all of the relaxation and therapeutic methods that exist, my all-time favorite choice would be music; specifically, learning to play guitar. I've picked up and put down the acoustic guitar since my early twenties. The times I had traction in playing guitar to a proficient extent were gratifying, fulfilling and relaxing. With music, especially playing guitar, I must be present in the moment and mindful of striking the chords correctly. I cannot be uptight, angry or upset when playing guitar, as the music will reflect accordingly. I love music and find that it soothes my soul.
I also learned a lot about myself; specifically, my greatest strength is also my greatest weakness. Being a good Marine Corps officer does not necessarily mean I was a good wife and mom. My transition from Marine Corps assignment to returning home was overwhelming, chaotic and difficult. I was caught up in my web of perfectionism, almost in an obsessive way, to the point my focus fixated on unimportant matters, such as cleanliness, instead of important matters, such as my family. My perfectionism was undermined by having to walk away from my 16-year teaching career, ending unhealthy and harmful family relationships, and taking responsibility for my behavior in my marriage. I realized that it was in the pain of my mistakes and disappointments where I learned the most and grew the most in my character, resiliency and desire to do better. It is about progress, not perfection. Learning from my mistakes and life experiences enabled me to be a better and stronger person today than I ever was before.
I approached my health holistically, not only my mental and social health from PTSD treatment, but also my physical and spiritual health. The mind, body and spirit is connected. Wellness comes not just from physical health, but from mental, social, and spiritual health as well. The best metaphor to describe wellness is imagining the four legs of a table. Each leg represents a major component of health, to include physical, mental, social, and spiritual. If one leg of the table is too long, then I am spending excessive time in that component of health, such as physical exercise. If one leg of the table is too short, then I am neglecting that component of health, such as my spiritual fitness. The legs of my table must be equal in length in order for me to reap the benefits of optimal health. If the legs of my table are not equal in length, then my foundation is wobbly. If I stand on my wobbly table, there is a propensity for accidents and injuries that could have been prevented. My table is my foundation for life, especially in the daily grind; therefore, my table must be leveled to create a strong base and especially to prevent the perpetual accidents and injuries that life throws at me.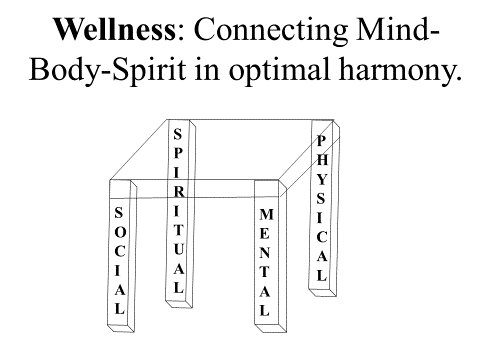 Exercise is a daily part of the Marine Corps life for multiple significant reasons. Exercise serves a greater purpose than my physical health, but also my mental health. Exercise is my personal medicine for my PTSD symptoms, as it is a natural elixir to remedy anxiety, depression, and stress with no negative side effects that medications may have. According to The Atlantic Magazine, there is evidence for prescribing exercise as therapy in depression, anxiety, and stress. "In 1999, a randomized controlled trial showed that depressed adults who took part in aerobic exercise improved as much as those treated with Zoloft." (Khazan, 2014). I definitely experience a positive change in my mood when I exercise. Conversely, I definitely experience an irritability when I do not exercise.
Since my return from Afghanistan in October 2009, I've also been battling with chronic, severe and debilitating fatigue. It did not matter how much sleep I had the night before, how many naps I took, or the multiple cups of coffee that I consumed, the fatigue still lingered fiercely. I had some medical conditions that were likely contributing to my fatigue, but these conditions should not have caused such severe fatigue. My quality of life was affected significantly, especially with my family, as I felt like I was constantly running on empty. The VA conducted an overnight sleep study that was inconclusive. I was frustrated living life in a fog with zero energy, either trying to wake up with lots of coffee or trying to nap to eradicate my fatigue. Napping, drinking coffee, and feeling tired all the time was the never-ending cycle. I was a sucker for products that claimed to boost my energy naturally, but none of them worked. Just like I was stuck in my PTSD, I wondered if this struggling life of fatigue I was experiencing was the best that life had to offer.
We all have our own personal burdens to bear. Once again, my burden must be to live with severe fatigue along with my PTSD. I considered hiring a health coach, but I was reluctant because I had a lot of formal education, to include a Master of Science in physical education and health, and a personal trainer certification. If anyone should know how to take care of my physical health, it should be me! Once again, my struggle was not a knowledge problem, but an application problem of not doing the right thing for my physical health.
However, I did not know how to remedy my fatigue. I was also struggling with losing those last stubborn pounds. At one point, I was overweight according to Marine Corps height and weight standards. Feeling fat and tired all the time, I was stuck and needed help. I finally hired a health coach who introduced me to optimal nutrition. Miraculously, my severe fatigue was cured overnight. I had no desire or need to take a nap. I had all-day sustained energy where I felt fully awake, alert and focused with sharp mental clarity. I also noticed that my nighttime sleep was quality, concentrated and restorative. I lost those last stubborn pounds and returned to my post-college fighting weight. I was getting my life back and I felt amazing! I honestly do not recall feeling so good physically since my post-college adult life. My new health has become a superpower, eradicating PTSD as kryptonite and refueling my body with optimal nutrition. A testament to my new health was scoring a perfect 300 points on my recent physical fitness test at the end of April, which I have not done since I was a second lieutenant, over twenty-seven years ago.
I am pursuing whole food, plant-based nutrition, as the health benefits are profound in achieving optimal health, preventing diseases and managing weight. I was utterly mesmerized after watching the documentaries of "Game-Changers" and "Forks over Knives" where they disproved the claim that dairy and meat are necessary for diet and "real men eat meat." You might be thinking I am turning hippie with plant-based nutrition. Rest assured and trust me when I state unequivocally that I am a Marine with every fiber of my being! These documentaries provided scientific research that eating meat is not ideal for the body. The opening scene in "Game-Changers" is Camp Pendleton where James Wilks, an elite Special Forces trainer and winner of The Ultimate Fighter, teaches mixed martial arts to Marines. Arnold Schwarzenegger is one of the presenters who shares his experience of transitioning to plant-based nutrition.
Health is one of the most important predictors of happiness. When it comes to health, my motto is "pay now or pay later." In other words, there's no successful procrastination option in taking care of your health. If you take care of your health today, you are preventing the avoidable chronic health diseases. If you take care of your health tomorrow, you are reacting to the avoidable chronic health diseases. Investing in my physical health is one of the best decisions I ever made and I will never regret.
During my seven-week PTSD treatment, I was diligent to also work on my social health and spiritual fitness. The perfect storm in my life left some relationship casualties with which I had to contend. These broken relationships in my life festered and at times consumed me in unhealthy ways. For my self-preservation and emotional safety there were unhealthy and unsafe family relationships that led to a necessary ending, which I am at peace with those decisions. Meeting with the VA Chaplain, a prior-enlisted Marine, a couple of times a week during my PTSD treatment helped me navigate through these complicated relationships, which I desperately needed.
During my chaplain visits, I was also concurrently working on my spiritual fitness towards peace in my soul with all of the brokenness and disappointments I experienced in my life. When I was stuck in my PTSD, I felt like a failure every day in my destructive behavior or absence in my family interactions. I also felt far from God in my brokenness and shame. As I surrendered the burdens weighing me down and preventing me from living life to the fullest, the healing power of PTSD treatment took effect and it felt like a spiritual experience. I felt joy again, like I felt in college when life was simple, pure and fun. College was a great experience for me, not only earning my degree, but playing college soccer. We were soccer national champions my freshman and senior years. Those college experiences were some of the greatest memories of my life. I also became more committed in my Christian faith during college, which was pivotal in my desire to live life honoring God.
During my later adult years with combat stress and family complications, the storms of life were pervasive that continually beat me down. I felt defeated and tainted, succumbing to the controlling forces of PTSD, and far from God.
If my husband and I had made the decision to separate and divorce, I think we both would agree this decision would be justified. Marital conflict was intense, unbearable and sometimes out of control, leaving me feeling hopeless and helpless. I learned PTSD affects relationships and relationships affect PTSD. Reflecting back to my first PTSD symptoms following my OIF deployment, these symptoms slowly diminished over time, but I was single back then. Now that I was married with kids, the complications of relationships exacerbated my PTSD. I knew my angry outbursts were not healthy and could have a damaging impact on my two young boys. Because of my isolation and avoidance, I missed out in being fully present with my family, as if I was an outsider looking in. As hard as it was to be married and remain married, I think in a sense it saved me. I often wondered if I remained single, I might succumb to my isolation, avoidance and reclusiveness that could led me to my demise.
I also learned that it's easy to make decisions out of our pain, which would essentially be an escape of the pain, and not address the root core of the problem causing the pain. It was difficult and humbling to realize my shortcomings and destructive behavior in my marriage and parenting, take ownership, reconcile, and create a strategic plan with goal setting benchmarks to do better. My PTSD treatment taught me to make decisions with an empowered healthy mind, where I have clarity to make decisions that enable me to be a better person for a better tomorrow, where my future self will thank me.
My post-PTSD treatment included implementing a strategic plan to protect my PTSD recovery process, which is critical to avoid a relapse. I consider my PTSD recovery progress like sacred ground. I've worked so hard to rise to a better place in my mind, relationships, and life that I never want to backslide to my old self again. My post-PTSD treatment plan is practicing and implementing new learned coping skills on a regular basis, establishing boundaries around triggers that could lead to a relapse, and finding a compatible support group. In the process of creating a post-PTSD treatment plan, I am relying heavily on harnessing the power of a good daily habit. Initially, the process of forming a good daily habit feels like a chore, as it requires a lot of discipline, focus, and hard work. When my daily healthy decisions transition to a habit from "I have to" to "I get to" and "I want to," then it becomes second nature and I will naturally see the fruits of my labor.
I used to think "PTS-Growth" sounded like such a cliché, but I discovered it is ever so true. At the tender young age of almost 50-years-old I have a lifetime of experiences that some people may never encounter their entire life. By God's grace, I am truly a stronger person today with depth of wisdom, character and resilience than I ever had before, thanks to the healing power of my PTSD treatment.
I do not feel we talk about PTSD enough in the Marine Corps and I think we can do better. I am sensing many Marines may be suffering in silence, like I was. I used to be ashamed of my PTSD. Following the healing power of my PTSD treatment, I am no longer ashamed! I was a victim of PTSD, but now I am a victim of my success in my PTSD treatment process.
If my article resonates with you and you can personally relate to my PTSD experience, please consider following my example. I promise you will never regret it. It only took me 16 total years, to include 12 years of marriage, before I received the help that I so desperately needed. Do not be a slow learner, like I was! It is never too late to get help. There is no badge of honor to suffer in silence. As service members, it is difficult to acknowledge we may need help or to even to ask for help for our mental health. However, a stigma is only a stigma if you allow it to be. I could easily remain stuck in this military mentality that I can handle my own problems on my own and not seek help. I could have easily justified not pursuing PTSD inpatient treatment because the timing was never right, the duration of seven weeks was too long to be away from home, my boys are too young and need their mother, or it would not be fair to my husband to be absent for so long. All excuses! These excuses are external factors that could easily be justified in not pursuing PTSD treatment. However, I have control over the outcome of events in my life, as opposed to external forces that are beyond my influence.

Before arriving to PTSD treatment, I shared my secret of pursuing PTSD treatment with a very few select friends and my husband due to my shame. Now that I am in a better place and found my smile due to the healing powers of my PTSD treatment, I want to share it publicly and shout it out from the mountain tops. With the priceless and immeasurable gift of PTSD treatment by the amazing VA staff, and the tenacious support by my family, my health coach, and the grace of God, I am a new woman, inside and out, and I feel amazing! I have renewed myself in heart, mind and body with a new lease on life. I was able to rewrite the script of my life during the seven weeks of my PTSD treatment. I am so excited with my renewed self. I turn 50-years-old this year and I could not be happier. I am thrilled to live the rest of my renewed, restored, and redeemed life. Fabulous 50 – here I come!
Two Bible verses truly resonated with me during my PTSD treatment. The first Bible verse is Isaiah 43:18-25, which describes God's transformative renewal of my old self. 18 "Forget the former things; do not dwell on the past. 19 See, I am doing a new thing! Now it springs up; do you not perceive it? I am making a way in the wilderness and streams in the wasteland." The second Bible verse is Jeremiah 29:11, which describes God's provisions for my renewed self and future life. 11 "'For I know the plans I have for you,' declares the LORD, 'plans to prosper you and not to harm you, plans to give you hope and a future.'" I do not know what the future holds, but I know that God holds the future and the future is bright.
This article is dedicated to my steadfast loving husband, my two beautiful boys and my gracious in-laws. If it was not for my husband's selflessness and sacrifice to be a single parent for seven weeks, I would not have received the PTSD treatment I so desperately needed. This article is also dedicated to the amazing staff (psychologists, psychiatrists, chaplains, therapists, wellness instructors, nurses, and peer support) at the VA Fort Thomas Division Trauma Recovery Center, Fort Thomas, Kentucky. I owe a debt of gratitude to this VA for giving me the most priceless, precious, and invaluable gift that I have ever received in my life, which was the empowerment to live life with joy and contentment. My eternal gratitude!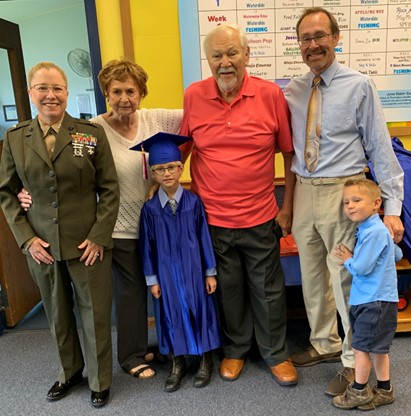 David's kindergarten graduation with mom, dad, brother, grandma and grandpa on June 6, 2021.